Hilton Head Island

Map and Information
Hilton Head Island Map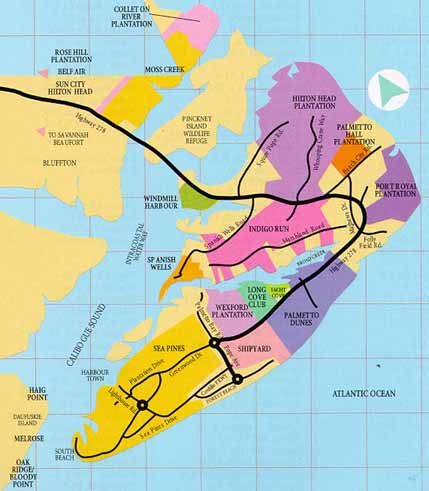 Map Courtesy of Data Publishing Company, Inc.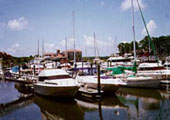 Whether you're a permanent islander, part-time resident or a visitor just discovering the bounty of Hilton Head Island, you know that there's something special about this island. From the moment of arrival there is the immediate sense of being removed from the rest of the world. Hilton Head is an enchanting haven where the splendor of sea, sky and maritime forest blend seamlessly with the luxuries of a world-class resort destination. Culture and the arts thrive as effortlessly as the marshside's snowy egret or the ocean's dolphin.
Hilton Head has emerged as an easy-paced environment that is home to over 30,000 residents and considered the preferred vacation destination for nearly two million visitors each year. Vacationers come to enjoy 12 miles of beaches and the Atlantic Ocean as well as attractions like more than twenty championship golf courses and hundreds of tournament-quality tennis courts. It's understandable, then, that so many visitors choose never to leave, making Hilton Head Island home for good.
Many residential communities can be glimpsed sequestered behind gated entranceways. Some are private, with access given only to property owners and guests. Others harbor shopping, dining and recreational facilities which welcome the public.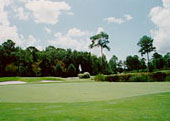 Like to play golf?
There are now over twenty-two golf courses on the island and twenty-two more in operation or planned off the island. In addition to the profusion of courses, it is also their undeniable quality in design and condition that makes Hilton Head and surrounding areas shine in the constellation of golfing destinations. Four courses, Harbour Town, Colleton River, Haig Point and Long Cove ranked among the top 100 in the nation and others have been acclaimed by various industry publications bestowed with numerous top awards, many cited among the best in the South.
On Hilton Head, an island only 12 by 5 miles long, there are over 360 tennis courts on all three Grand Slam surfaces. In that group, four tennis resorts have been acclaimed in Tennis magazine's top 50 U.S. clubs: Palmetto Dunes Tennis Center, Port Royal Racquet Club, Sea Pines Racquet Club and the Van der Meer Shipyard Racquet Club. In fact, the island brandishes more five-star tennis resorts than anywhere else in the country. It's understandable then that Tennis magazine went on to describe Hilton Head as "The perfect year-round tennis vacation!"
Absolutely anything that involves warm-weather activity is found in this low country paradise: sailing, fishing, tennis, golfing (and miniature golf), biking, volleyball, horseback riding, rollerblading, boating, parasailing, and even roller hockey. Then on the more leisurely end of the spectrum, there's nothing else like spending a day basking in the sun or just strolling on the beach. There is even croquet at Port Royal Plantation and polo matches at Rose Hill Plantation.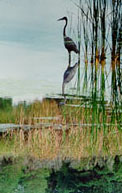 Much of what is so special about Hilton Head is captured when exploring it by water - on the Calibogue Sound, the Intracoastal Waterway, the Broad River, the Atlantic or through winding channels of marsh. Seeing the magical low country waterscape by boat brings you closer to its beauty, and taking advantage of that perspective can be virtually effortless. Crafts can be chartered at any of the harbors for sightseeing, dinner cruises, fishing expeditions...even for parasailing or dolphin watching. Those who have the good fortune of owning their own boat are familiar with the one-of-a-kind experience that taking to the waters of Hilton Head can bring.
The climate on Hilton Head is delightful, with a semi-tropical warmth and enough of a seasonal change four times a year to keep it interesting. Springtime blooms early and fall rolls in late; and, there are even days in the middle of December that edge up into the low 80s and high 70s. Overall, the year-round averages of midday and evening temperatures are approximately 75 and 55 degrees. And in the spring the ocean heats up quickly, beckoning even the most particular swimmers and sun-worshipers in for a dip.

Hilton Head Island is celebrated for much more than its recreational offerings; now, it shares acclaim for its arts and cultural pursuits. The island is endowed with a strong medley of visual and performing arts, including dance, theater, music and art. Serving as the focal point for the Hilton Head artistic community, the Arts Center of Coastal Carolina houses a two-level 360 seat theater and an art gallery. Both the theater and the gallery play host to nationally known travelling artists and actors groups, as well as serving as a home for many local artists and actors.
Public Schools:
Private Schools:
Hilton Head Primary
Grades K-2
25 School Road Attendance 650
Hilton Head Island, SC 29226
681-3629
Hilton Head Christian Academy
Grades K-12
55 Gardner Drive Attendance 150
Hilton Head Island, SC 29228
671-2286
Hilton Head Elementary
Grades 3-5
10 Wilborn Road Attendance 660
Hilton Head Island, SC 29226
681-2053
Sea Pines Montessori School
9 Foxgrape Road
Hilton Head Island, SC 29228 671-2286
McCracken Middle School
Grades 6-8
55 Wilborn Road Attendance 900
Hilton Head Island, SC 29226
689-6767
Hilton Head Preparatory School
Grades 1-12
8 Foxgrade Road Attendance 350
Hilton Head Island, SC 29228
671-2286
Hilton Head High School
Grades 9-12
1983 School Road Attendance 985
Hilton Head Island, SC 29226
681-8300
All phone numbers use 843 area code
Colleges & Universities
Technical College of the Lowcountry
1 College Center Drive
Hilton Head Island, SC 29928
842-6509
University of South Carolina
1 College Center Drive
Hilton Head Island, SC 29928
785-3995
Professional & Civic Organizations
Over 150 Organizations Exist, Including:
Rotary Club
686-4400
Lions Club
681-4570
Zonta Club
681-6712
Professional Women of Hilton Head
681-9066
Hilton Head Advertising Club
681-6888
Hilton Head Association of Realtors
842-2421
Jaycees
785-4674
Island Recreation Association
681-7273
Hilton Head Art League
671-9009
Community Association
681-6848
Sierra Club
671-6599
For a complete list of community organizations, contact the Hilton Head Chamber of Commerce at 785-3673.
Hospital
Hilton Head Regional Medical Center
25 Hospital Center Blvd.
Hilton Head Island, SC 29926
681-6122
Open 24 hours
Religion
There are places of worship for many different religions on Hilton Head.